EXPERIENCE THE WONDER OF FOOT REFLEXOLOGY TODAY!
Introducing the EMS Bioelectric Foot Massager a solution to all your health condition needs. There are various acupoints on the soles of the human body, which correspond to different organs of the human body. Our mat will pin point exactly what you need to feel better.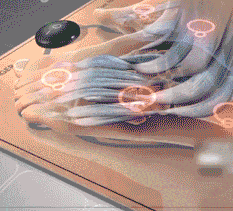 Relieve Swelling and Tone Down Legs with our Portable EMS Foot Massager. This foot massager uses precise tiny electric pulses that target lymph's in the legs and effectively Unblocks the Lymphatic System to Relieve Swelling and Leg Pain. It also Facilitates Better Blood Circulation to Remove Cellulite Lumps on Leg and Thigh area. Great for people who suffer from peripheral neuropathy and regular swelling in your feet and legs.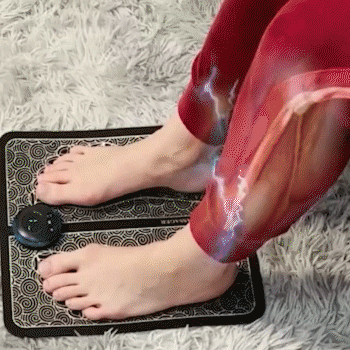 BENEFITS

✔️ Instant Relaxation

Provides a pleasant relaxation after a hard day at work. Foot massage will reduce stress, from wearing ill-fitting shoes, dramatically relaxing your body. It provides a strong in-depth massage to relieve muscle fatigue and soothe away your tension.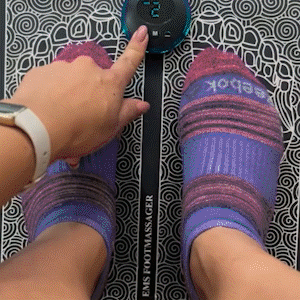 ✔️ Better Blood Circulation
Sends small pulses through the feet and lower legs to stimulate the muscles for improved blood circulation eliminating swollen legs and feet. Using EMS technology for foot massage, massage feet reach deep tissue, stimulate acupuncture points to promote blood circulation and relaxing the feet.
✔️ Non-invasive Pain Relief
Relieves tension, pain, and long term exhaustion through feet by targeting the natural acupressure points. Electrical stimulation reaches deep tissue. Improve circulation by contracting feet & legs muscle. Can help foot neuropathy, cramps, plantar.
✔️ Overall Health Benefit
Improves metabolism to help in weight loss, stimulates sweat secretion, reduces fatigue, aids sleep, and improving posture.
FEATURES
✔️ Portable and Handy

This is compact and handy and can be carried anywhere to provide instant relief.
✔️ Safe to Use

It uses a soft and comfortable foot pad material with ion circuit printing that is skin-friendly and does not cause harm to the user.
✔️ Comfort for Everyone
Suitable for people who work on their feet all day, exercise, office workers, the elderly, or anyone that has some sort of foot pain or want to experience an amazing foot massage. The perfect gift for your friends and loved ones.
✔️ Choose massage & strength
Choose from 19 different intensity levels and 8 different modes to accommodate any user's needs and preferences.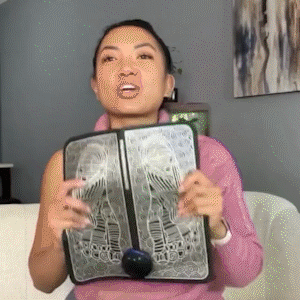 HOW TO USE?
-Attach the unit to the foot mat, the foot masseur uses 3 buttons to control different functions.
-Place both feet on the carpet, press the "" + "button or" "-" "to adjust the intensity and power on.
-Press the "" M "button to switch between the 6 modes.
SPECIFICATIONS
Material:

 

Polypropylene
Color:

 

Black
Weight: 200g
Size: 29 x 30cm